Morocco Private Tours
Tailor-made itineraries with private driver guide
Welcome to Morocco, where kaleidoscopic colors can be seen, melodious jingle of camel bells can be heard, and fragrant scent in the air can be smelled. There are countless ways to experience this country: visiting world-famous movie set and UNESCO heritage Ksar of Aït Ben Haddou; trekking in the rolling and snow-capped Atlas Mountains; going on a pilgrimage to Hassan II Mosque; making nice bargains at the vibrant Jemaa el-Fnaa Square; paying great reverence at the Royal Mausoleum, or taking a leisurely camel-ride on the endless Sahara Desert. Whatever your Morocco trip wants to be felt like, let us customize a lifetime Moroccan journey to make it happen.
Read More
Show Less
Most Popular Morocco Private Tours
More
Multi-Country Private Tours Including Morocco
More
Morocco Day Tour

What Our Clients Say About Us
"Quick Reply" "Knowledgeable Guide" "Helpful Driver" "Highly Recommended"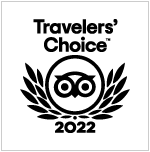 TripAdvisor Certificate of Excellence

since 2012

6000+

positive reviews

98%

would recommend us
Morocco Highlights
With exotic charm, fascinating landscapes, profound history, and extensive cultures and traditions, Morocco is a destination worth exploring every inch.
Accommodation
Morocco offers many kinds of accommodations for you to choose from, including luxury chain hotels, riads, bed and breakfasts, cottages, camps, bivouacs, etc.
If you are seeking for a premium trip, sleep in the best international or local luxury brand hotels for enjoyment and relaxation. If you are looking for more unique experiences, many options await you.
A night in a bivouac, a tent in the heart of the desert, will give you a distinct chance to fall asleep in the timeless silence and wake up to the world's most fascinating sunrise, which is truly a unique lifetime experience.
A stay in riad, which is converted from traditional Moroccan house or palace with an interior garden or courtyard, can make you feel historic and authentic ambiance.
A stay in cottage or hostel enables you to contact with locals and experience their lifestyle.
Camping beside the beautiful coast in the mild Moroccan climate is the preference for surfers and adventurers.
Transport
There are many transportation options for you to get around in Morocco:
Domestic flights
There are 18 airports in Morocco to help you explore the country, from north to south, saving your time for long distances.
Train
There is a rail network covering the entire country, which is a good way to meet local people, admire enchanting landscape, and experience local lifestyle. A high-speed train will serve the Casablanca-Tangiers route starting from 2018.
Public transportation within cities
You can choose from taxis, buses and trams (in Casablanca and Rabat) within cities. Prices are regulated and all taxis are equipped with meters.
Car rental
If you decide to rent a car, you should know that cars drive on the right side, and most cars have manual transmissions. National highways running north-south serve the entire country. Road signs are in French and Arabic.
Private car with driver
As request, My Odyssey Tours can also arrange private car with driver for you during your Morocco tour.
Tourist Visa
Citizens of following 70 countries and territories are eligible for visa-free access to Morocco for up to 90 days (unless otherwise noted):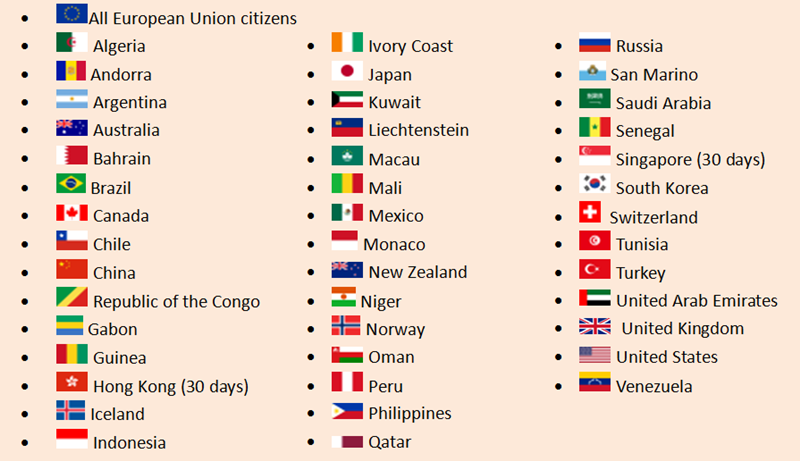 Best Time to Visit
The best time to visit Morocco may vary depending on the destinations and activities. The best time to enjoy the highlights such as the four imperial cities is April - May and September - November when the weather is mild. Summer is the best time to visit the beaches as the average temperatures is about 26 ℃. For Sahara Desert, the most comfortable time is early spring or fall, because sandstorms may occur during middle and late spring, especially in April. If you are planning a trek in the Atlas Mountain, the best time is April - May (for blossoming trees in the valleys) and September - October when the weather is the best. Generally, Morocco is an all-year-round destination with every season brings something fantastic.
Average Monthly Temperature and Rainfall for Morocco from 1901-2015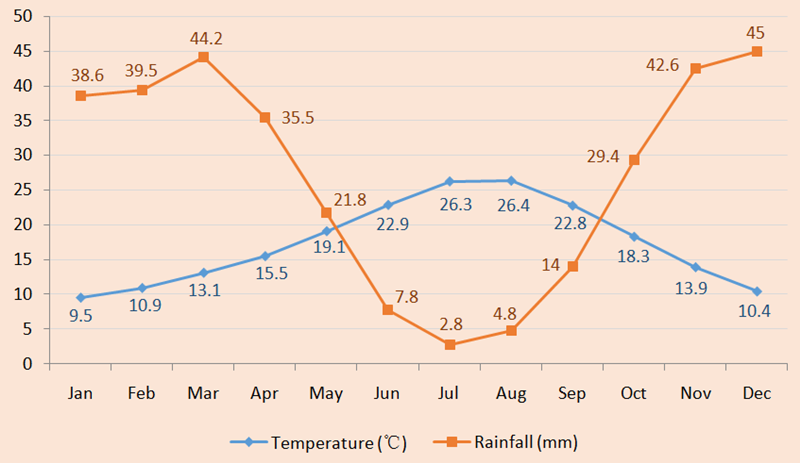 Morocco Travel Guide
Culture and History

Morocco is an ethnically diverse country with a rich culture and civilization. Through Moroccan history, it has hosted many people coming from East (Phoenicians, Carthaginians, Jews and Arabs), South (Sub-Saharan Africans) and North (Romans, Andalusians). All those civilizations have affected the social structure of Morocco. It hosts various forms of beliefs, from paganism, Judaism, and Christianity to Islam. Morocco has set among its top priorities the protection of its diverse legacy and the preservation of its cultural heritage.
Culturally speaking, Morocco has always been successful in combining its Berber, Jewish and Arabic cultural heritage with external influences such as the French and the Spanish and, during the last decades, the Anglo-American lifestyles.
Archaeological evidence has shown that Morocco was inhabited by hominids at least 400,000 years ago. The recorded history of Morocco begins with the Phoenician colonization of the Moroccan coast between the 8th and 6th centuries BC, although the area was inhabited by indigenous Berbers for some two thousand years before that.
In 1912, after the First Moroccan Crisis and the Agadir Crisis, the Treaty of Fez was signed, dividing Morocco into French and Spanish protectorates. In 1956, after 44 years of French rule, Morocco regained independence from France, and shortly afterward regained most of the territories under Spanish control. Moroccan culture is a blend of Arab, indigenous Berber, Sub-Saharan African, and European influences.
Eating and Drinking
Morocco cuisine has been considered as one of the most diversified cuisines in the world for a long time, as a result of the colonial and Arabic influences and also the centuries-long interaction of Morocco with the outside world. In Morocco, myriad local foods will delight your taste buds.
Couscous: the staple food and probably the best-known Moroccan meal. Made from crushed semolina and steamed in a colander-like dish, it can be served as accompaniment to a stew or tagine, or mixed with meat and vegetables and presented as a main course. Almost all Moroccan restaurants serve couscous on Fridays as a tradition.
Tagine: a spicy stew of meat and vegetables that has been simmered for hours in a conical clay pot. Restaurants offer myriad variations including chicken tagine with lemon and olives, honey-sweetened lamb or beef, fish or prawn tagine in a spicy tomato sauce.
Kaliya: a Berber-style cuisine that is a combination of lamb, tomatoes, bell peppers and onion and served with couscous or bread.
Bastella: a popular delicacy in Morocco, made by layering thin pieces of flakey dough between sweet, spiced meat filling (often lamb or chicken, but most enjoyably pigeon) and layers of almond-paste filling. The dough is wrapped into a plate-sized pastry that is baked and coated with a dusting of powdered sugar. Harira: a delicious soup made from lentils, chick peas, lamb stock, tomatoes and vegetables, which is served to begin the meal.
Bissara: a thick glop made from split peas and a generous wallop of olive oil, which is served as a traditional breakfast in Morocco and can be found near markets and in medinas in the mornings.
Mint tea: locally known as "Moroccan whiskey" due to its similarity in color. Sometimes it is offered more as a lure into a shop than a hospitable gesture - use your wits to determine when to accept. Before drinking, look into your host's eyes say "ba saha ou raha", meaning "enjoy and relax", and any local will be impressed with your language skills.
Try some local brew, like Casablanca Beer, Flag Special and Stork.
Tips:
1. Clarify the price before ordering and make sure about what you order (the best is asking for the menu). Otherwise you might be charged more or get food you haven't ordered (though it happens very infrequent).
2. Don't drink tap water at all in Morocco, even in hotels, as it contains much higher levels of minerals than the water in Europe. Bottled water is widely available.
3. A solo woman may feel more comfortable having a drink or snack at a pastry shop or restaurant as cafes are traditionally for men. This doesn't apply to couples though.
Geography and Environment

Morocco covers an area of 446,550 sq. km and has a population of over 33.8 million. It is situated in the Northern African, bordered by Spain to the north (through the Strait of Gibraltar), Algeria to the east, and Western Sahara to the south. Morocco spans from the Atlantic Ocean, to mountainous areas, to the Sahara desert, and has a coast by the Atlantic Ocean and Mediterranean Sea, being the one of only three nations (along with Spain and France) to have both Atlantic and Mediterranean coastlines.
A large part of Morocco is mountainous. The Atlas Mountains is located mainly in the centre and the south and running down the backbone. The Rif Mountains is located in the north and bordering the Mediterranean Sea. Both mountains are mainly inhabited by the Berber people.
Most of the population lives to the north of these mountains, as most of the southeast portion is in the Sahara Desert and thus is generally sparsely populated and unproductive economically.
Rabat is Morocco's capital city; Casablanca is its largest city and main port.
Shopping

Morocco is a land of outstanding craftsmanship, which is a masterful combination of great traditions and daring esthetic innovation.
Marrakech
Marrakech is a true microcosm of Moroccan handicraft. Take a deep dive into the bustling souks, where traditional arts are showcased, like Semmarine souk (famous for Berber and Arabic craftsmanship, such as earthenware, ornamental candles, lights, etc.), and Attarine souk (famous for brass and copper work, from bronze to gold finishes; and all sorts of leather and leather goods like babouche slippers). You can also shop unsurpassed Berber jewelry here.
Rabat
Rabat is a vibrant capital, where traditional crafts coexist with artisanal works reinterpreted by modern designers.
In the medina, a historic quarter with a maze of themed alleys, you can discover different goods and skills. You will find leather goods, slippers and bags, fabrics and traditional clothing in Souk Sebbat and Souika streets, find silver jewelry and the famous Rabat carpets as the city's claim to fame in Rue des Consuls.
In Oulja complex in Salé, you will watch talented potters shape the clay magically into tagines, vases, light fixtures, etc., which can both be souvenirs and functional objects for daily use.
Fez and Meknes
In ancient imperial cities Fez and Meknes, artisans are busy in reviving traditions to craft both authentic and modern works.
The most representative art in Fez is pottery. Here you will find the famous cobalt blue pottery and glazed ceramic produced by deft potters.
The reputation of Meknes is artful damascening, which can be found on vases, plates, bracelets and other finely decorated objects. Embroidery and tanning are also traditions passed down from generation to generation.
Given the abundant local handicrafts, be sure to take some in your suitcase.
Festivals
Festivals provide a wonderful chance to experience local traditional dance, music, food and religion. If you happen to visit Morocco during one of these festivals, do enjoy this exciting and entertaining country.
The Rose Festival
Held in a small oasis town Kelaa-des-Mgouna in Dades Valley, the annual Rose Festival is wonderful celebration of harvest by local farmers with local music and dance, a Miss Roses contest and a colorful market of locally-made crafts and artwork.
Where: Kelaa-des-Mgouna, Dades Valley near Ouarzazate
When: Annually held in Mid-May (depending on harvest time)
Fes World Sacred Music Festival
In the heart of Morocco, in an atmosphere colored by spellbinding music, Fez awaits you for its traditional World Sacred Music Festival. During the festival, the city comes alive to the sound of traditional music. It will be an amazing experience to enjoy wonderful musical performances, great atmosphere of festivity, and traditional local culture.
Where: Fes, Morocco
When: Annually held in the spring.
Essaouira Gnaouas and World Music Festival
The Gnaouas and World Music Festival invites you to come and share its musical crushes, hear the latest discoveries and revel in cultural and artistic friendships. The festival gives pride of place to gnawa music. Music lovers, musicians, newcomers and fans will find kindred spirits who share their passion. With world music, traditional music and scenery that will take your breath away, your stay in these sun-drenched climes will be pure pleasure.
Where: Essaouira, Morocco
When: Annually held in the summer.
Imichil Marriage Festival
The Imilchil Marriage Festival, also known as September Romance, is a homage to love and celebration of Berber Tradition, held in the quaint village Imilchil in the Middle Atlas Mountains by the surrounding tribes. The festival features an annual collective marriage where women search and choose their husband. It is a great way to experience Berber culture.
Where: Imilchil (near Marrakech), Morocco
When: Annually held in the August/September.
Ramadan and Eid Festival
Ramadan is the 9th month of Islamic calendar, a month of dawn-dusk fasting, prayer and introspection observed by almost all Muslims worldwide. During this month, observant Muslims reflect upon their past year's actions, seek forgiveness for transgressions, refocus on self-discipline and spiritual practice (prayers and recitation of the Quran), and give alms to the poor and needy.
The Eid al-Fitr ("festival of breaking of the fast") marks the end of Ramadan, and the beginning of Shawwal, the next lunar month.
Where: Throughout Morocco
When: Annually held during the Muslim holy month.
Travel Tips
Money
The local currency is the Moroccan dirham (MAD), while some places may accept euro and US dollar unofficially. Banks are not so easily found in the souqs or medinas, but ATMs can be found near the main gates, tourist hotels and in the modern shopping districts.
It's illegal to bring more than MAD100 of local currency out of the country, however you can buy dirham outside Morocco.
Electricity and voltage
The voltage in Morocco is generally 220 V, and outlets will fit the two-pin plug known as the Europlug. Watch out for American and Canadian appliances, which are made to be used with 110V, thus a power converter may be needed.
Stay safe
Morocco overall remains a safe place with one of the lowest homicide rates in the world. But you'd better keep the following tips to avoid unwanted problems:
1. Avoid walking at late night or in dark alleys.
2. Keep money, passports and other valuables in a safety wallet or in a hotel safe-deposit box.
3. For women, dress conservatively (no low-cut tops and shorts) to show your respect to local culture and also avoid disturbing harassment. Avoid eye contact with men by wearing dark sunglasses. Don't be afraid to ask for help to families, local women, or a busy shop if you suffer harassment or are followed by someone.
Stay healthy
1. Avoid tap water and uncooked fruits and vegetables unless you can peel them.
2. Beware of ice or drinks that may be made with tap water.
3. No particular inoculations are needed for Morocco under normal circumstances, but please consult your doctor before departure.
4. Avoid open-toe shoes except for the beach.
5. Moroccan toilets, even those in hotels or restaurants, could lack toilet paper. It is worth buying a roll.
6. Use your right hand for greetings (usually handshakes), giving or accepting something from others, as the left hand is traditionally considered "unclean" in the Muslim religion and Amazigh nomadic cultures.
Tailor-Made Service
Customized Itinerary

Affordable
Price

Hand-picked Hotels

Private
Guide & Car

Reply Within 24hrs

Easy
Inquiry
Customize Your Tour