A tropical climate, rich culture, pristine beaches, and delicious food - these are the acknowledged reasons for making Southeast Asia a popular destination across the world in recent years.
Although being regarded as a magnet for many budget and backpacker travelers most of the time, Southeast Asia is still home to many luxury hotels and resorts, whether it is seaside villas or secret luxurious rooms on the hill. Now, we recommend 10 luxury hotels and resorts that offer you a unique experience throughout this area:
Hanoi, Vietnam: Sofitel Legend Metropole Hanoi - another side of the city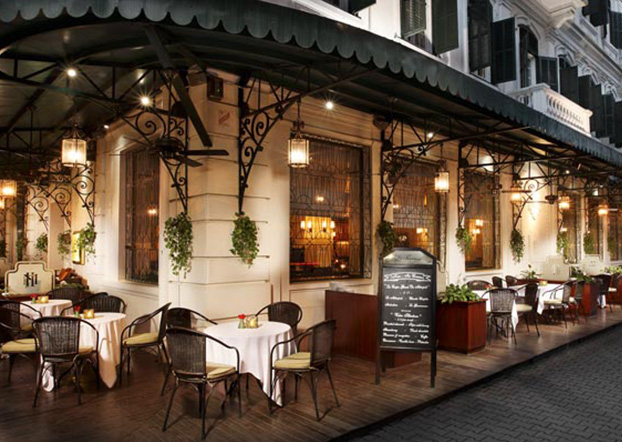 The External of Sofitel Legend Metropole Hanoi (Photo Credit: Sofitel Legend Metropole Hanoi)
Sofitel Legend Metropole, lying in the heart of the city, is undoubtedly the top choice for you to step into a world full of history in Hanoi. Located near Hoan Kiem Lake and the Opera House, Sofitel Legend Metropole is a French-style architecture opened in 1901. Its white-painted walls, green shutters, as well as decorative wrought iron details and wood paneling, are telling the stories of the last century. All rooms are stylishly decorated and have all the modern facilities you can expect from a 5-star hotel. Graham Greene Suite (Photo Credit: Sofitel Legend Metropole Hanoi)
Over a hundred years, many celebrities around the world are on the guest list of the hotel: from famous legendary mime actor Charles Chaplin, British writer Graham Greene, to well-known theoretical physicist Stephen Hawking, and so on.
Hoi An, Vietnam: The Nam Hai - a wonderland to enjoy the sea view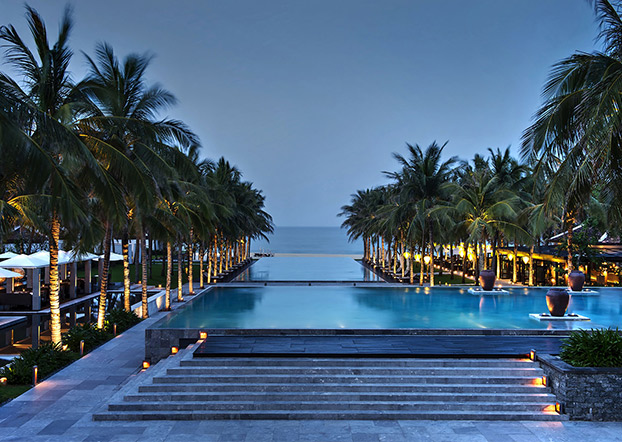 The Overview Pool in the Nam Hai (Photo Credit: The Nam Hai)
7km away from the ancient town of Hoi An, the Nam Hai is located on the pristine Ha My beach, one of the most beautiful beaches in the world. It is a boutique hotel and perfect for you who want privacy and an excellent beach. The Nam Hai has deftly integrated the traditional Vietnamese style, and furnished it with logs and handiwork. Its indoor design is simple but romantic.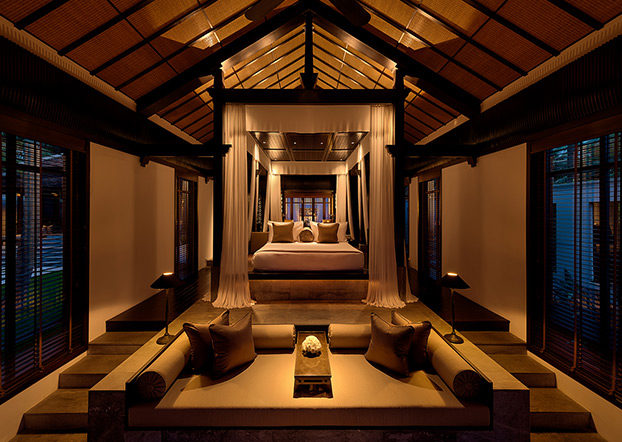 One Bedroom Beachfront Villa (Photo Credit: The Nam Hai)
In this 35-hectare tropical garden, there are 60 one-bedroom luxury villas and 40 pool villas. Who hasn't entertained the idea of falling asleep in the pool villa, which possesses a private garden where you could enjoy the specific view of the sea? What's more, when staying in the Nam Hai, you can't miss the award-winning Spa in the floating treatment pavilions.
Siem Reap, Cambodia: Amansara – a former imperial palace near Angkor Wat
Amansara is the perfect accommodation if you're a historic sites lover. Just 10 minutes away from the most significant UNESCO site - Angkor Wat, Amansara itself is a historic site, originally built for Cambodia's King Norodom Sihanouk in 1963.
Nestled in a peaceful, private garden setting, Amansara is an ideal haven to stay in Cambodia. Apart from its history, you will be thrilled with the tranquil beautiful surroundings, the high quality of service, and the very amazing food. If you like, Amansara can even arrange a magical private dinner at one of the temples, or a scenic flight to discover the land further. With a well-deserved reputation, this highest-end luxury hotel guest list often features the likes of royals, successful Hollywood actors, and fashion designers.
Phuket, Thailand: Six Senses Yao Noi – the highest island resort in Asia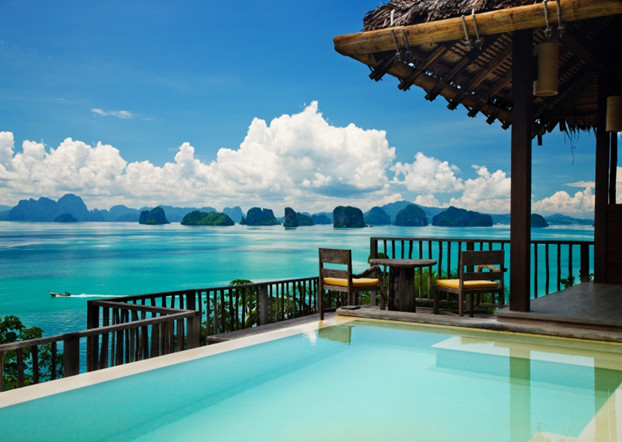 Ocean Panorama Pool Villa in Six Senses Yao Noi (Photo Credit: Six Senses Yao Noi)
With a picturesque view of the mangrove landscape and original tropical scenery, Six Senses Yao Noi resort, setting the highest benchmark for island resorts in Asia, is situated on a small island in Phang Nga Bay, Thailand. This will provide you with idyllic views from the resort and some great excursions if you like to explore the area by land or by sea. In addition, it will give you the most relaxing Thai Spa experience, and Cinema Paradiso will bring many old movies to you.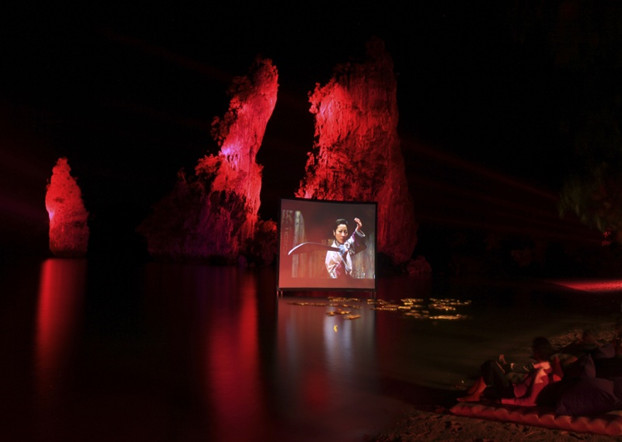 Movies on the rocks (Photo Credit: Six Senses Yao Noi)
The eco-friendly environment is another highlight of the resort. Its villas are open-air, resembling a luxury tree house; they use all local foods and materials, avoiding imports, and you're welcome to go to the farm to pick up the food material by yourself.
Bangkok, Thailand: Mandarin Oriental, Bangkok - the "Grande Dame" of Bangkok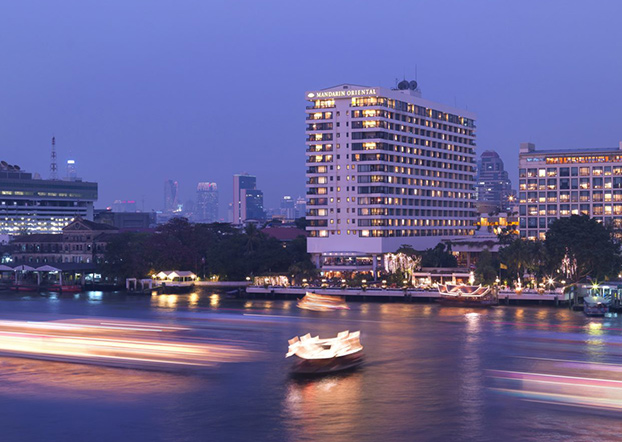 Mandarin Oriental, Bangkok (Photo Credit: Mandarin Oriental, Bangkok)
Mandarin Oriental, Bangkok, the "Grande Dame" of Bangkok, is known as a witness of the city since it originally opened in 1876. Located on the banks of the Chao Phraya River, it sets peacefully away from the hustle and bustle of the city. During the past 140 years, many travelers and authors have been deeply inspired by this hotel, and it even sets a two-story Authors' Wing that is well-known to many travelers.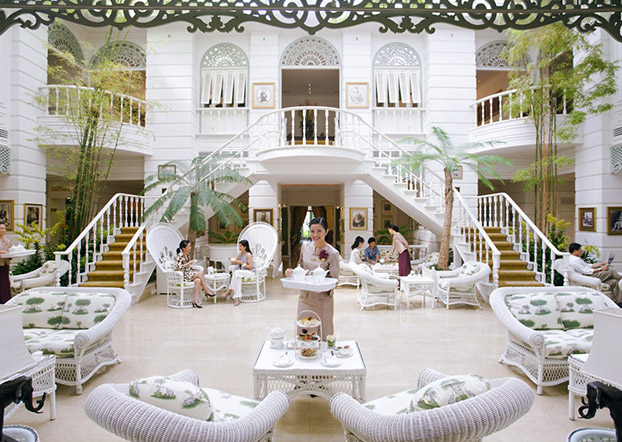 The Author's Lounge (Photo Credit: Mandarin Oriental, Bangkok)
With nine dining options, the hotel is sure to satisfy any type of cuisine you like. Its French restaurant, Le Normandie, is renowned throughout Asia for its delicious cuisine. And also, a world-class spa and health club will give you a relaxing environment to keep the heart, body, and mind in shape.
Luang Prabang, Laos: La Residence Phou Vao, a fairyland to overlook the World Heritage
Positioned atop the Phou Vao Hill and surrounded by palms, La Residence Phou Vao is an unforgettable fairyland for you who seek an intimate and romantic place to stay. You can have a breathtaking view of the World Heritage town and hills when you relax here. The sparkling teak floors, beautiful walls covered by hand-made silk, and large infinity pools that offer an expansive vista of the mountains are all showcasing the soul of the country.
At the moment you meet La Residence Phou Vao, you'll understand the true essence of "slowness" and feel the power of zen. Every morning, you can go out of the room, breathe the fresh air, watch the distant pagodas, and observe the monks dressed in red to collect donations.
Yangon, Myanmar: The Strand - the finest hostelry east of Suez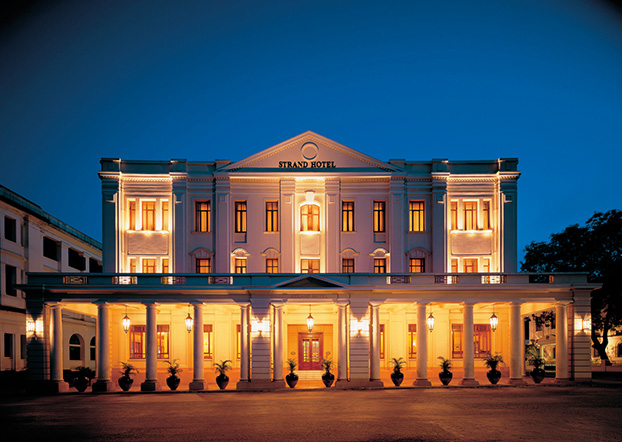 The Strand (Photo Credit: The Strand)
Since 1901 the Strand Hotel has been regarded as "the finest hostelry east of Suez". And when you come here, you'll completely agree with these words. Recognized as a national landmark and completely renovated to reflect the epoch of the 1920s and 1930s, The Strand is a three-story Victorian-style hotel located in the center of downtown Yangon, on the bank of the Yangon River. This makes it easier for you to explore this area on foot.
For foodies, the hotel offers two dining options, The Strand Cafe, which features Burmese cuisine, and The Strand Grill, which is said to be one of Yangon's finest dining venues. (The Strand Hotel was redecorated in 2016 in keeping with the Strand's legendary style and timeless elegance.)
Boracay, Philippines: Shangri-la's Boracay Resort & Spa – a private paradise in Boracay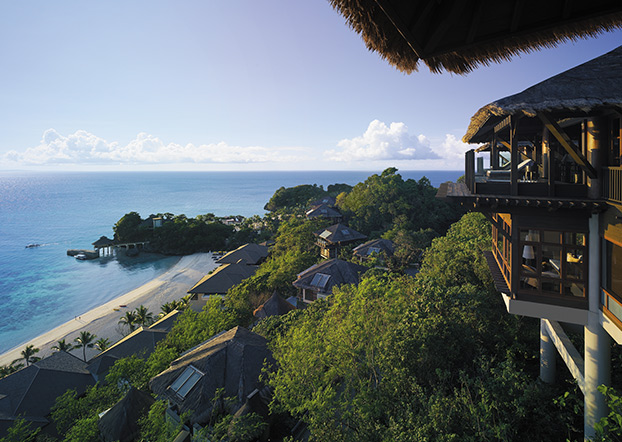 Panoramic View from Tree House Villa (Photo Credit: Shangri-la's Boracay Resort & Spa)
Don't be too surprised when you're told that Shangri-la's Boracay Resort & Spa is the first and the only luxury resort on this beautiful island. With a classic yet contemporary architectural style infused with local cultural influences, the resort has 219 elegant rooms, including 36 luxury villas and suites, and each of them has a private balcony that offers you a stunning view. The sea view suite is decorated with abaca-weaved carpet and accent lighting made of capiz shells, where you could listen to the music of the waves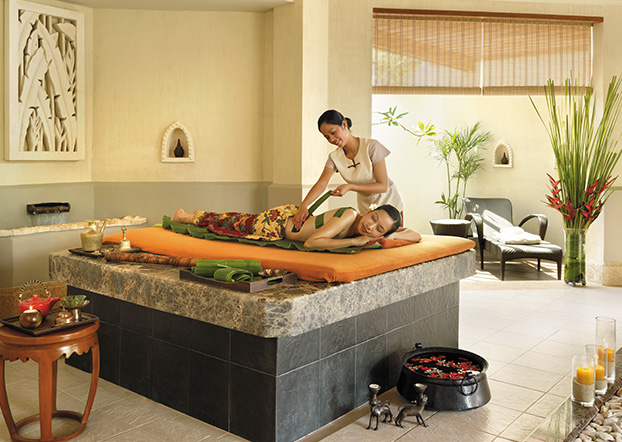 Banana Leaf Treatment at CHI (Photo Credit: Shangri-la's Boracay Resort & Spa)
What's more, you are highly recommended to experience the special spa named CHI. It features careful treatments based on Chinese and native Philippines healing concepts and will give you a relaxing holiday.
Bali, Indonesia: Oberoi, Bali – a tropical retreat to Bali's party scene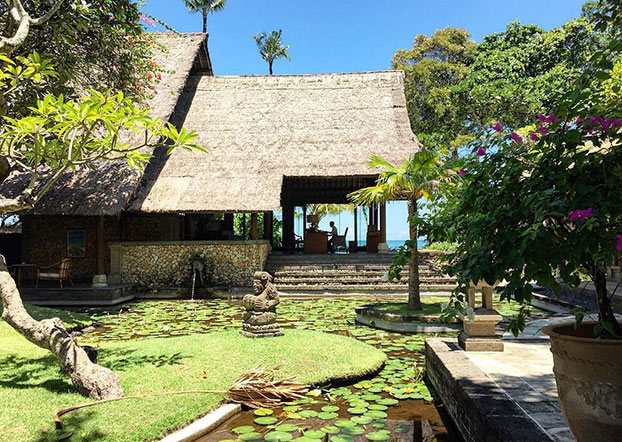 Garden in the Oberoi, Bali (Photo Credit: Kim Hopkins)
Situated within 15 acres of breathtaking tropical gardens at Seminyak, the Oberoi, Bali is a traditional Balinese-style resort with thatched roofs, natural stone, and ornate wood carvings. Its luxurious rooms and exquisite villas, filled with the view of the beautiful sea or the hotel's tropical garden, are high, large, and bright. This fascinating private accommodation reflects the beauty of romance and eternity. This Bali hotel is also home to its own spa, the Oberoi Spa, where you can enjoy a variety of relaxing and soothing treatments.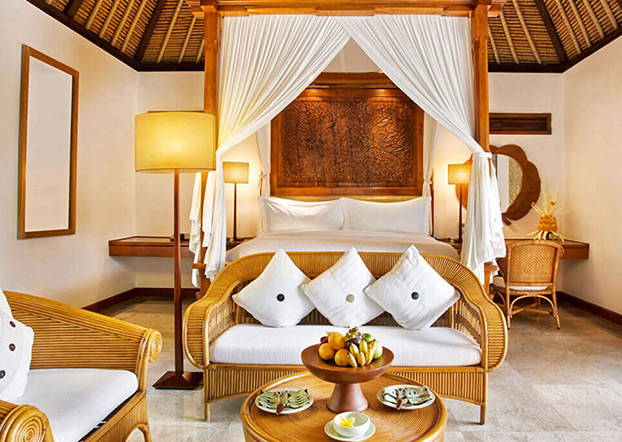 Luxury Villa (Photo Credit: Oberoi, Bali)
What makes the Oberoi different is its high level of service. Its well-trained staffs are mostly Indonesian, and they are warm, hospitable, genuinely helpful, and extremely competent without feeling overbearing or showy.
Langkawi, Malaysia: Four Seasons Resort, Langkawi, a door to nature
Showing the charm of nature, Langkawi is the first geological park protected by UNESCO in South Asia. The ideal place for you to base yourself whilst discovering this fascinating place is most certainly the Four Seasons Resort. Thanks to its fabulous mile-long setting on pristine Tanjung Rhu Beach, the hotel is a tranquil retreat along the Andaman Sea, and you can breathe the fresh ocean air and enjoy the miraculous view from the stunning pavilions or villas here.
This incredible resort won't let you miss the perfect nature. With the guide of the hotel, you can go deeper into the most diverse tropical ecosystems on earth - Langkawi's Kilim Karst Geoforest Park, where you can come into close contact with exotic animals and plants.
Write to us at and get a tailor-made tour including these luxury hotels and resorts. We believe your holiday in Southeast Asia will be one of the most memorable parts of your life!
What Our Clients Say About Us
"Great Customized Service" "Exceed All Expectations" "Highly Recommended"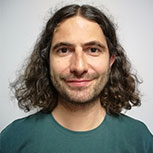 CONTACT A TRAVEL EXPERT
1-to-1 Service | Reply within 24hrs | Expert's Advice
STAY IN TOUCH WITH US
Subscribe to our newsletter so we can provide you with insider travel information, exclusive offers, and discounts.