For Muslims worldwide, Ramadan is the anniversary of the revelation of the Quran to Mohammed, the prophet of Islam, and thus the holiest month. While for non-Muslim travelers, it can also be a celebratory holiday and spiritual experience. Read this article and you'll find a way to make your travel to Muslim-majority countries like Morocco, Egypt, Turkey, and Jordan during Ramadan as enjoyable as possible.
What is Ramadan
Ramadan, also known as Ramazan, Ramadhan, or Ramathan, is the ninth month of the Islamic Calendar, a month of dawn-to-dusk fasting, prayer, and introspection observed by almost all Muslims worldwide. During this month, observant Muslims reflect upon their past year's actions, seek forgiveness for transgressions, refocus on self-discipline and spiritual practice (prayer and recitation of the Quran), and give alms to the poor and needy.
Adult Muslims who are healthy must fast from dawn to dusk, except for the elderly, the sick, women who are pregnant or nursing, women who are menstruating, and travelers. They refrain from food, drinks (including water), and tobacco during sunrise and sunset, believing that the spiritual rewards for fasting will be multiplied within Ramadan. They also abstain from immoral behaviors and sexual relations, which may negate the reward of fasting. It is said that the soul can be purified by freeing it from worldly activities.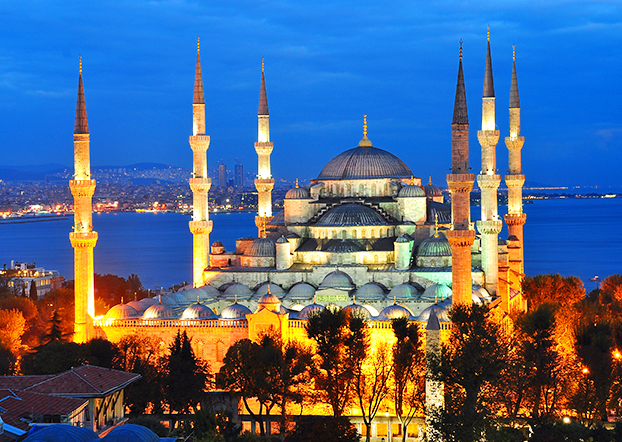 The Blue Mosque in Istanbul, Turkey at dusk. Photography by Gene Tobia.
What is Eid al-Fitr
The Eid al-Fitr ("festival of breaking the fast") marks the end of Ramadan and the beginning of Shawwal, the next lunar month. It begins with the first observation of the new moon soon after sunset. If the moon is not observed right after the 29th day of Ramadan because it is blocked by clouds or the sky is still too bright to see it, Eid al-Fitr is the following day. It is a period of special prayers, feasts, sweets, and gift-giving. Muslims are encouraged to forgive and forget any differences with others or animosities they have come across during the year.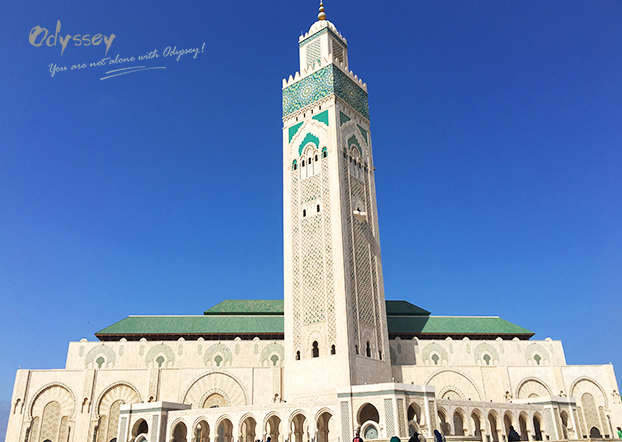 The majestic Hassan II Mosque in Casablanca, Morocco
When is Ramadan
Ramadan normally lasts 29–30 days, with the beginning and end marked by the first sighting of the crescent moon. Following the timetable of the nearest country with distinct days and night is more commonly accepted by Muslims living in areas with polar days or polar nights than following the timetable of Mecca, which was declared in a fatwa.
The beginning date of Ramadan always falls on the same day as the Islamic Calendar, which is a lunar calendar based on the motion of the moon but varies from year to year on the Gregorian Calendar (a solar calendar). And the exact beginning time may vary slightly by locality depending on the visual sighting of the new moon. The dates given below are approximate: How to enjoy it
Ramadan is imbued with many cultural practices that many tourists may not be aware of, but which will undoubtedly enhance and enrich their trip! To make your trip to Muslim-majority countries during Ramadan more enjoyable, here we summarize several practical tips:
Enjoy the advantages of Ramadan. In many ways, Ramadan is a good time for traveling. The streets and tourist attractions are less crowded and busier than usual. The hotel prices tend to be at their lowest of the year during Ramadan (excluding Eid al-Fitr, when the prices rise again). And the flight deals may be very good.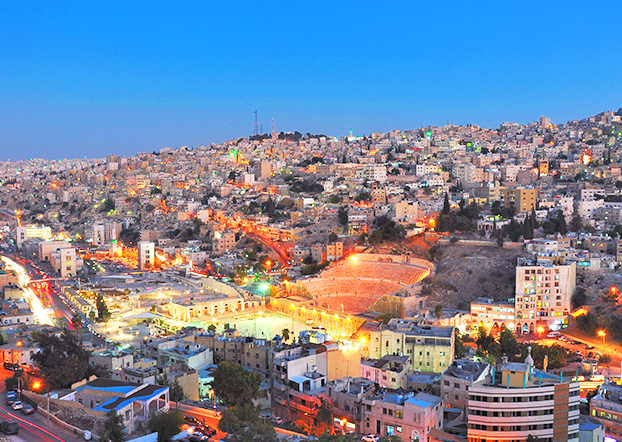 Downtown Amman, Jordan, at dusk Photography by Gene Tobia.
Do wish everyone a very blessed Ramadan by saying "Ramadan Mubarak" or "Ramadan Kareem".
Accept an iftar invitation. Muslims eat a pre-fast meal called suhur before dawn and a fast-breaking meal called iftar after sunset. Iftar is a special time when families and friends get together to eat a hearty meal and spend time with each other while listening to the Quran or just talking or telling stories. If you wish to taste the unique Ramadan dishes prepared with much care and love and have a very authentic experience, this is the perfect chance. If you don't get invited to someone's home, you can still join the "party": most restaurants offer special iftar menus during Ramadan.
Savor the silence. At sunset, almost all Muslims gather at home with their families and friends for iftar. So the streets are empty, and the city is silent. Everything is closed except for some major hotels and restaurants that are opening for tourists. One minute you see the streets filled with shoppers purchasing food for iftar, and the next minute you feel like you are the last person on earth. Savor the moment!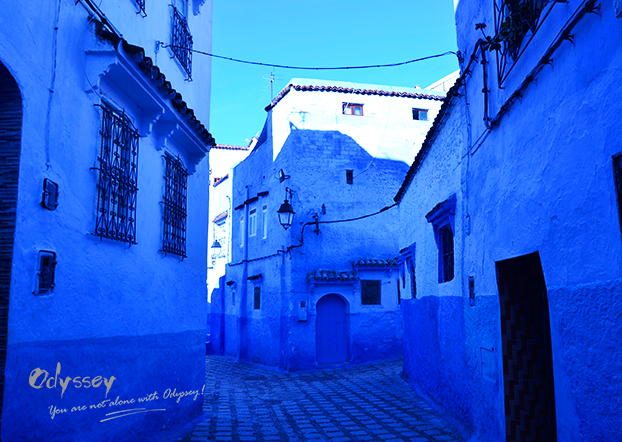 A empty street in Chefchaouen, Morocco
Enjoy the nights. The nights are the real days during Ramadan. Practicing Muslims offer night prayers in major mosques or in open courtyards outside mosques for an hour and a half, and usually start after iftar. They stand, sit, or prostrate when the imam recites passages from the Quran. Many tourists would like to see the night prayers held in the open courtyards outside mosques and enjoy the night breeze there. After the prayers, shops and cafes open for business again, and the streets and the city come to life all over again. Several popular venues and hotels will have Ramadan-themed nights.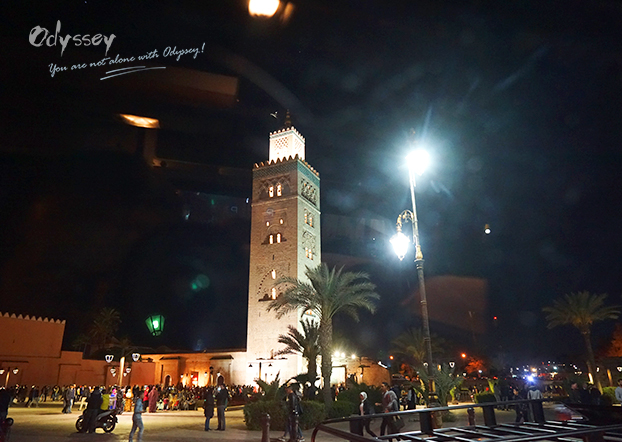 The Djemaa el Fna Square in Marrakech, Morocco is one of the hottest nightspots.
Soak up the festival atmosphere. In many Muslim countries, beautiful colored lanterns and blinking lights are hung in houses, mosques, shopping malls, business places, public squares, and across city streets to add to the festivities of Ramadan. Looking across the skyline at night, you will see the shining of colorful Ramadan ornaments. Restaurants of all kinds are adorned with special decorations and provide themed folkloric events or music, making them a real occasion for iftar and "party." Crowds of people sit down together on chairs in restaurants or diners to share their experiences of breaking the day's fast.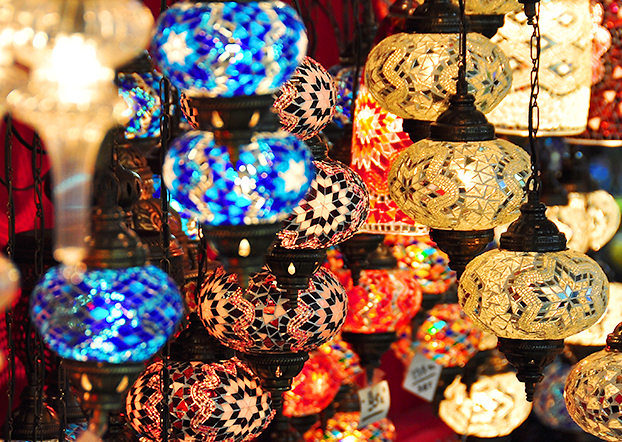 Beautiful colored lanterns shining in the night. Photography by Gene Tobia.
Be mindful and respectful of the local customs and traditions. Most Muslims take the holy month very seriously. They fast from sunrise to sunset, though they don't expect non-Muslims to fast too. But to show your respect towards them, please Try not to eat, drink (water, alcohol), or smoke in open public (streets, squares, etc.) during the daytime.
Dress conservatively. As Ramadan is a highly religious month, people, especially women, are expected to cover up more than usual. Tops covering the arms up to the elbow and long trousers extending to the ankles are well recommended. Keeping a shawl handy to cover yourself when necessary is also a good practice.
Do ask permission before taking photos of locals or their belongings. Many people don't like to be photographed as they believe that a photograph can steal their soul.
Do be informed of and prepared for the differences. Many supermarkets and malls will operate on regular hours but will close earlier, before sunset, for iftar and then reopen after iftar until late at night. Many restaurants and cafes stay closed until sunset.
The first call to prayer, often accompanied by a loud siren, occurs in the early morning, which may awaken light sleepers or people staying near a mosque. Thus, earplugs can be useful essentials!
Don't panic. As a tourist, you can buy and consume food, drinks, or even alcohol in major hotels, tourist restaurants, and western cafes in the daytime during Ramadan, as they are open for business as usual. Government offices, banks, and tourist attractions (museums, historical sites) are open, although some may close earlier, before sunset, to allow staff to go home and enjoy the iftar. And people maintain their high spirits despite being hungry, thirsty, and tired.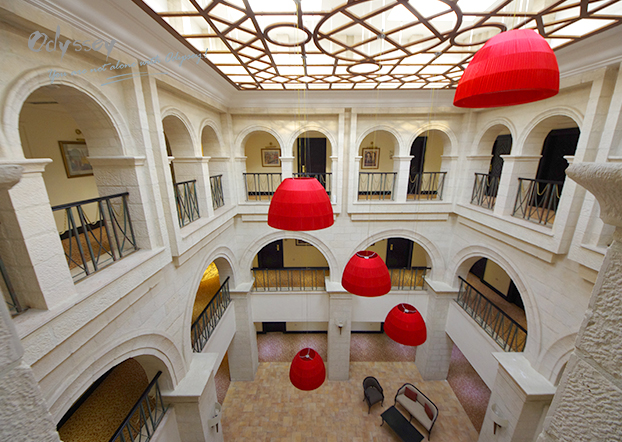 Major hotels operate during Ramadan as usual.
When you visit Muslim-majority countries during Ramadan, you can learn a lot about their ancient traditions. This is a spiritual and amazing experience that you will remember for the rest of your life. Tailor-make a special tour during Ramadan, and get a memorable experience. For any questions, please contact us at .
What Our Clients Say About Us
"Great Customized Service" "Exceed All Expectations" "Highly Recommended"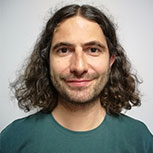 CONTACT A TRAVEL EXPERT
1-to-1 Service | Reply within 24hrs | Expert's Advice
SUBSCRIBE TO WIN A FREE TOUR
Subscribe to our newsletter for a chance to win a 5-day Japan tour for two people! And more insider travel news, exclusive offers, and inspiration will be sent straight to your inbox.